今回はPAUL T. & ERIC D.のbuddyが来日します!
その名もJUSTIN君(良い名前)であります。
NYCのdance/disco コミュニティの中心人物であり、
!!!(チックチックチック)やOUTHUDのプロデュサーとして、
ビッグヒットを放った事で知られていますが、
最近はプロデュース業に力を注いでいるようでして、
BROOKLYNの最重要UNDERGROUND LABEL、
"GOLF CHANNEL"
から密やかに間違いのない作品をドロップしています。
そんな彼こそが
Justin Van DerVolgen
なのです。
DJ ACKKY
(
journal
)
と
DJ CHIDA(
ENE
/
DANCAHOLIC
)
の強力サポートでガッチリ脇を固めます。
見逃せない夜になる事請け合いです。
KENTと私WATARUがバーテンダーに変身!
どうなる事やら、、、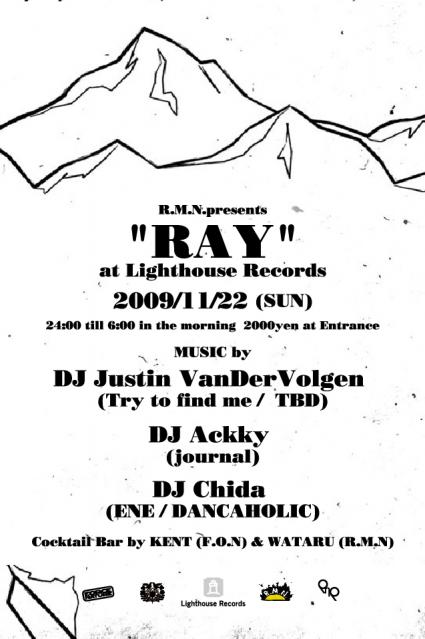 Justin Van Der Volgen:
Justin Van Der Volgen has a history spanning the last 13 years in the dance/disco community. Being one of the founding members and the producer of the bands !!! and Outhud as well as remixing for labels such as Warp, EMI and Output. In 2003 Justin produced the !!! record "Me and Guiliani down by the schoolyard" which became a UK dance chart hit and monster dance rock staple, being played by the likes of Errol Alkan and 2ManyDjs, helping to bring the emerging early 2000's sound of NY dance music to the rest of the world. In 2005 Justin remixed a track from his band Outhud called "Put it away, Put it away, Put it away Dad" which became a huge record in the club circuit with the with regular spins from the Glimmers, Dj Hell, and Eric Duncan. It was in 2001 when Justin moved to NY that he started dj'ing more and playing some of the best parties and after hours spots in the city. Early 2008 saw Justin leaving !!!, (Outhud disbanded in 2005) to focus on producing, remixing and dj'ing. Some of his most recent remixes for Maserati and !!! have garnered support from taste makers such as Optimo, Todd Terje and Prins Thomas. In 2008 Justin released an edit record on the uber cool label Golf Channel under the "Try to find me" moniker which became an instant classic with the legendary Dj Harvey. Currently at work with Lee Douglas on a project called TBD, their first release What is This? garnered support from jocks Tim Sweeney and Thomas Bullock. The remainder of 2009 will see the release of the next TBD 12", various TBD remixes and the Try to find me Vol 2. mix cd. Solo material for Golf Channel is to follow shortly. Playing everything from dub reggae, rock, sleazed italo, vocal house and disco Justin aurally represents the underground sound of contemporary NY club music.